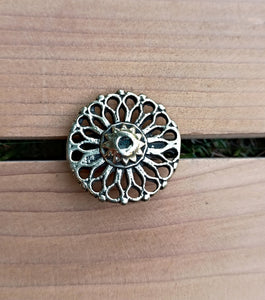 Vintage Old kuchi ring- Tribal jewelry- Kuchi jewelry- Afghan rings- Gypsy jewelry- Coin silver jewelry- Bedouin jewelry- Stacking rings
Regular price $29.00 Sale
Afghan jewelry- old kuchi gold ring- tribal bohemian jewelry- Old afghan ring- Stacking ring- Ethnic tribal jewelry- Gypsy jewelry.
This one-of-a-kind piece of jewelry comes from the deserts of Afghanistan. Gracing the fingers of a well to do local beauty and probably part of her wedding trousseau - this ring is a masterpiece of design incorporating many of the traditional silversmiths skills passed down over the centuries. Set with a luck bringing stone at it's center this over-sized finger adornment cannot fail to attract attention.
Gorgeous Old one of a kind Dome ring with glass stone.The ring is probably 40 year old.Shaped into a coin,The technique used on the ring is metal stamping.The metal work and hand carving is explicit.I have not polished the ring and there are a few signs of age old patina.Perfect vintage condition.
Kuchi nomad ring from Northern Pakistan. These rings are made by semi nomadic tribal people in Waziristan.The ring shows signs of authentic tribal wear.
The metal used in most kuchi tribal jewelry is made from mixed metal alloys called "gillet". If you are into tribal style belly dance these rings are a must have accessory!
Perfect Stack able ring.
Size 9 usa
Free Shipping in the US
Please note that this is a vintage ring,allow for a few imperfections,